Accommodations in Tuscany: Hotel and Bed and Breakfasts, Residences and Villas in Versilia, Pisa, Livorno, Elba Island
Tuscany Guide provides you with many addresses of Hotels, Bed and Breakfast, camping and many other facilities in the most beautiful resorts in Tuscany.
We report also the portal Last Minute Tuscany to find promotional offers, first minute and last minute, while we offer holidays in Tuscany if you want to discover interesting travel itineraries in Tuscany.
We have divided for you the different types of structures:
hotel
bed and breakfast
guest
residence
villas for ceremonies and conferences.
Happy Holidays from the Staff Guide to Tuscany!
Hotels in Montecatini Terme - Hotel Touring Internazionale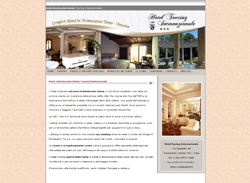 The hotel is located in the heart of Montecatini Terme, Via Felice Cavallotti, one of the oldest hotel tradition of the city streets. Originated in the 800 and the construction of the building was influenced by Art Nouveau. A part of the hotel overlooking an elegant square with a corner reserved for guests, where they can be reading a newspaper or a drink in peace of mind.
www.hoteltouringmontecatini.it
Hotel Four Stars
Goya Hotel - Forte dei Marmi
For your holidays in Forte dei Marmi Hotel Goya will surprise you with elegance and style providing comfort for a relaxing, enjoyable and memorable.
Thanks to the conference room the hotel is the ideal place for conventions, meetings, courses and conferences.




Hotel Goya
Via Carducci, 69-55042 - Forte dei Marmi
Tel +39 0584-787221
Fax +39 0584-787269
E-mail info@hotelgoya.it
California Park Hotel - Forte Dei Marmi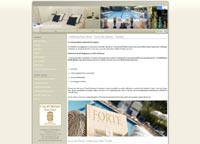 Located in an exclusive area of ​​Versilia, in the heart of Imperial Rome, the hotel is within walking distance of Versilia, the cultural center known throughout the world for the importance of the events.
The hotel, surrounded by a park of 10,000 sqm. 300 mt. from the sea, with every service: swimming pool, meeting room up to 220 seats, air conditioning and parking.

California Park Hotel
Via Colombo, 32-55042 - Forte dei Marmi
Riviera della Versilia, Italy
Tel +39 0584 787121
Fax +39 0584 787268

E-mail info@californiaparkhotel.com
L ' Hotel President is in the center of Viareggio, one of the most beautiful and prestigious Viareggio.
It has rooms that overlook the sea and the famous seafront promenade.
The rooms are furnished with sobriety and good taste. After their return to room guests will find a 'friendly and relaxed atmosphere, plus many comfort to cheer up their stay at the Hotel.
Hotel President
Viale Carducci, 5-55049, Viareggio (LU)
Hotel Residence Esplanade - Viareggio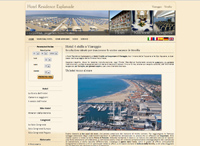 Completely renovated in appearance but not in style, the Esplanade offers 30 apartments with living room with kitchenette, bathroom and bedroom, and 14 double rooms, equipped with mini bar, color TV, satellite, 4-channel Tele + channels radio, air conditioning system directly from the camera. All apartments have a terrace and some of them overlooking the sea.
Apartments La Sorgente - Capannoli (PI)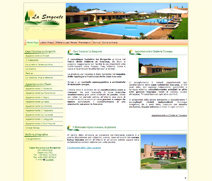 The Hotel La Sorgente is situated in the Era Park in Tuscany, where you can reach easily the most important art cities such as Florence, Pisa, Volterra, Siena and Lucca, and the main resorts and spas.
The structure has been designed for holidays in accordance with the types and traditions of Tuscan homes.
It rises in a landscape and environment of great value.
The whole area is crowned by a quaint alley with cypresses, a typical Mediterranean scrub largely made ​​up of pine wood, ideal for relaxing in summer, within a range of modern facilities such as swimming pools and tennis court complete the satisfaction of an enjoyable holiday in Tuscany.
Visit www.lasorgentesrl.it
Hotel Tre Stelle
Hotel Bristol - Tirrenia, Pisa -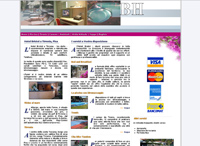 Hotel Bristol, located 500 meters from the sea, is located in a quiet location, close to golf courses and the pine forest.
Recently renovated and expanded, the hotel has many rooms tastefully furnished and equipped with many amenities: air conditioning, satellite TV, telephone, fax available, PlayStation 2, Sharp LCD flat-screen TV, Jacuzzi tub and shower with hydromassage. The hotel also has easy access to the Internet via network Wireless.


Hotel Bristol
Fern Street, 38
56018 Tirrenia - Pisa - ITALY
E-mail bristol@bristol.it
www.tuscanhotels.it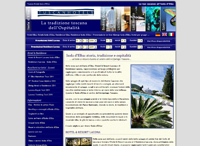 The portal of the hotel chain Tuscanhotels presents its own accommodation on the island of Elba and Pisa: residences, hotels, each with different characteristics and qualities. Hotel luxury hotel suitable for families, for young people, for conference tourism.
Visit our website, for sure you will find your accommodation on the island of Elba.
Bed and Breakfast, Residence and Guest House in Tuscany
Villa Romantica - Bed and Breakfast - Lucca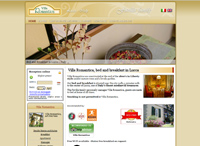 Villa Romantica dates from the late nineteenth, early twentieth century, art nouveau, between the green of a large garden full of trees in whose shade you will have moments of relaxation.
Villa Romantica is a family and strives to offer guests comfort and well-being and the feeling of being at home.
The bed and breakfast is located in an excellent position just off the splendid circle walls of Lucca, a city known for its wealth of art and history.
Visit www.villaromantica.it
Residence in Pisa
For Residence in Pisa Visit this website www.residencepisa.it .
Villas for ceremonies, conferences, fashion shows
Villa Alta - San Giuliano Terme, Pisa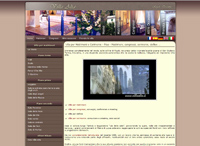 Villa Alta is a splendid villa immersed in green Rigoli, near San Giuliano Terme, in a wonderful position that enhances the beauty, elegance and grandeur.
At the event you want to organize, our staff of professionals will be pleased to provide online advice on how to make a beautiful wedding, a beautiful fashion show, or a fabulous conference.

Villa Alta
Via Statale Abetone, 110 - Rigoli - Pisa
Tel: +39050562327
Fax: +39050551470
E-mail villaalta@seif.it