Tourist guide in Tuscany
You are a group, a class, a couple or a single? Want to visit the Tuscan territory accompanied by professionals who will let you know the city and its surroundings in a different way?
Then let yourself be guided by escorts and tour guides will put at your disposal all their knowledge and experience.
To discover the artistic beauty, but also to explore and admire the natural beauty of Regione Toscana: parks, nature reserves, hills, valleys, and much more.
Grifo Tour - Tourist guide, excursions to Pisa and Tuscany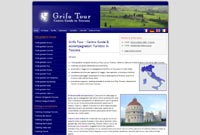 TOUR GRIFO itself as a tourist guide and tour to Pisa in Tuscany and a group or individual turisti.Per visit Pisa and other cities, visit the Tuscan nature, traditions and products locali.Siamo also available for the tourist services, by 'assistance at airports, train stations or at the port of Livorno to excursions by bus or private car.
For more information visit
www.grifotour.com
Dr. for. Gianluca Pistoia - Tourist guide, excursions to Pisa and Tuscany
Forestry Consulting
From about ten years the study of Dr Gianluca Pistoia is consulting forestry.
The theoretical knowledge is supported by years of practice "field" allows you to identify and solve the problems of forest management and to develop what are the potential unrealized.
Environmental Hiking Guide
Dr. Pistoia make available its expertise for trips and toscana excursions into nature.
What you will find on the website are the proposals which, in addition to trips of two or more days, will be combined programs of study that goes well with the same.
For more information visit
www.gianlucapistoia.it
Webcam Marina di Pisa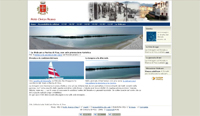 The town of Marina di Pisa provides a useful service to citizens and tourists thanks to the webcam could 24 hours on 24, 265 days a year, seeing the coast Pisa, wherever they are, thanks to mobile ready functionality that allows you to visit the site with a phone with an Internet connection.
You will have real-time images of weather, climate and sea.